---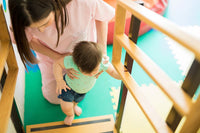 A 45 min session individualized to what your child is currently able to do and what they are ready to do next!
Excellent for 2-4 year olds.
Sometimes a child can get "stuck" on these classic skills and become frustrated!  A physical therapist will guide you and your child through fun and developmentally supportive activities focusing on the next "just right challenge".  You'll leave with plenty of ideas of fun ways to practice at home!
Please inquire before purchasing at (704) 379-7773.
Note: This is not therapy and an evaluation will not be done. It is an informational session-