---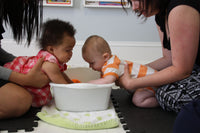 A 45 minute time slot offered weekly dedicated to helping parents and caregivers with their baby's Home Program.
The parent/caregiver will come in with their baby and their Home Program and do the whole thing (or as much as able) during the session.
Bring your baby and bring your questions! We will coach you through your baby's Home Program and explain anything that needs explaining.  
A therapist will be there to offer ideas of ways to make what you are doing even better and/or to explain parts that you or the baby are struggling with.
The therapist will be in a consultative, coaching position. The therapist will be helping based off the Home Program you bring in; she will not know details of your specific baby.
Parents and nannies who are able to implement their baby's Home Program can tremendously help their infant improve!
Requirement:  Baby must be a current patient of Carolina Kinder Development
Cost:     $25 per family